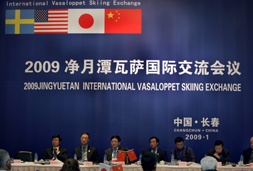 Vasa loppet International Skiing Exchange Conference was held on New Years Day 2009. The exchange and cooperation between the Swedish, USA, Japanese and Chinese Vasaloppet has been very fruitful, and benefitted many young people in the host countries. Topics of this years conference was how to attract new target groups and non-skiers to become interested in cross country skiing.
This years youth exchange program will take place in July-August where young people from Changchun will go to Mora, Sweden to stay in host families. They will learn about swedish culture, the Mora region, how Vasaloppet is organized in Sweden, and some other sports.
At the conference, delegates reported from previous Vasaloppet years and it was decided that Changchun would host its next Skiing Exchange Conference in 2021.
From left to right: Mr Wang Wenjun, Vice President of Vasaloppet China, VD of Jingyue Economic Development Zone, Mr. Xu Yifu, Vice Secretary General, Changchun Municipal Government, Mr. Guan Shusen, President of Vasaloppet China, Vice President of Changchun Political Consulting Committe, president of Changchun Economic Development Zone, Mr. Wang Xuezhan, Vice Mayor of Changchun, Mr. Gao Xuedong, CSA, Mr. Liu Li, Vice Director of Changchun Foreign Affairs Committe
Mr Gong from Changchun Municipal Government
Mr Niclas Hellqvist, Managing Director of Nordic Ways, Mr Torbjorn Petterson, Travel Coordinator at Nordic Ways, Mr Gavert Waag, Founder and Honorary President of Nordic Ways, Mrs Victoria Liu Event Manager
Delegates from Nordic Ways – Organizer of Vasaloppet China
Photo: Nordic Ways/Tommy Nyhlén