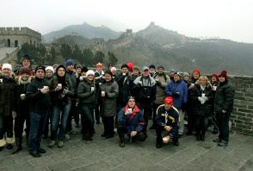 Participants for Vasaloppet China arrived Tuesday 30th to Changchun. One of the groups who comes from Sweden and Norway had some time to first visit Beijing and climb the Great Wall.
Participants will experience some cold days in Changchun as the weather forecast predicts minus degrees aroung -11 to -16 throughout the week. But the weather should at least be quite sunny  according to the prognosis.
To keep themselves busy while waiting for the big day – Jan 2nd- people can test their skis at Jingyuetan Park and go sightseeing at the Last Emperors Palace. Sign up at the Information desk at Shangri-la Hotel 2nd Floor where you also get the latest information about the race, bus and meal schedule etc.