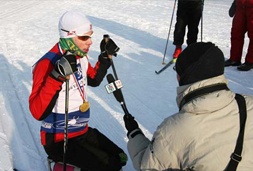 Today on the first day of this new decade, about 200 disabled from China and Norway took part in the cross country ski competition Ridderrennet China, the sister event to the Norwegian Ridderrennet which has been held every year in Beitostolen since 1964.
The participants competed in four categories: Deaf-mute, blind, sitting and standing.
"I feel that we will face many challenging competitions in 2010, I hope the Chinese disabled team will make a breakthrough at Vancouver Winter Paralympics and take at least one medal this time",  one Chinese skier told a reporter at the finish.
Minister to the Royal Norwegian Embassy in China, Mr. Kjell Tormod Pettersen held the opening speech in the morning. – "I am impressed with the organization level of the event. The most important thing is not to see who the winners are but to show that it is possible also for disabled people to get together, train and reach their goals". Ridderrennet China will become an annual event in Changchun from now on.
This competition is organized by the Norwegian Embassy and Changchun Government with Ridderrennets Venner, The Norwegian Ski Association and Nordic Ways as co-organizers. The plan is to hold Ridderrennet China on Jan 1 each year, on the day before Vasaloppet China.
This event brings with it many things in form of international exchange etc. A Chinese delegation now wants to make a visit to the Norwegian Ridderrennet on April 17. Changchun City Mayor has also engaged himself and he sais at the award ceremony that disabled sports is going to be prioritized much more in his region in the future.
Many participants also had a chance to make new friends at the arena and at the dinner banquet later in the evening.


Big media interest
Ridderrennet China got a lot of attention from Chinese media with reports and news in several TV-stations. Journalists flocked at the Jingyuetan Arena, making interviews with the skier. – "I think I have never experienced anything quite like this, we are happy if there are at least one journalist at World Cups and National Championships at home, but here I must have given at least 20 interviews and being filmed by TV-stations with millions of viewers" said Espen Aksnes, a member of Norway's paralympic ski team.
Results – Ridderrennet China 2010
http://www.nordicways.com/files/Vasaloppet/Vasaloppet_China_2010_Ridderrenet_Final_Ranking.pdf
Sitting – Men
1. Espen Aksnes  NOR 23:35
2. Markus Helmer Eskilt   NOR    57:38
Sitting – Women
Tone Englund   NOR   1:07:22
Standing
Men: Zou Dexin CHN 15:22, Women: Peng Yuanyuan  CHN
Blind
Men: Song Zhijian CHN, Women: Hanne Vadseth NOR
Deaf-Mute
Men: Liu Mingming CHN, Women: Wu Jing CHN

Minister Kjell Tormod Pettersen holds a speech at the opening ceremony of Ridderrennet China 2010
Norwegians on the start line: Markus Helmer Eskilt, Espen Aksnes and Tone Englund (Photo: Erik Unaas)