As Vasaloppet China 2014 is coming closer and closer, please find below the latest information bulletin for all participants who have signed up already. Note that it is of course still possible to register for Asia's biggest cross-country skiing event in Jingyuetan, Changchun. Just go to Sign Up on the competition tab of this website.
NUMBER BIBS / VASALOPPET RACE OFFICE DESK AT SHERATON HOTEL:
Opening hours:
December 31 7:00-12:00 / 14:00-17:00
January 01 7:00-9:00 / 12:00-17:00
January 02 17:00-20:00
If you have not collected your envelope by latest 1 January 2012 at closing time, you can still pick it up at the Arena Race Office between 7:00 and 8:30 on event day.
Contact information:
Isabella Hu,
tel +86 -(0)-186 866 591 33,
e-mail: isabella.hu@nordicways.com
www.vasaloppetchina.com
BUS TO START AREA AND BACK TO EVENT HOTEL
See separate time schedule information at Vasaloppet Race Office at Sheraton Hotel.
START AREA
Following start order, marked with the same colour as your number bibs, are used; 1st Blue Men China Tour de Ski, Stage 3 – Vasaloppet China 52.5K Men Elite 2nd Orange Women China Tour de Ski, Stage 3 – Vasaloppet China 52.5K Woman elite, 3rd light blue, Vasaloppet China 52.5k; 4th yellow. Blueberry Vasa 17.5k; 5th Green Vasa Fun Ski; 6th white Student Vasa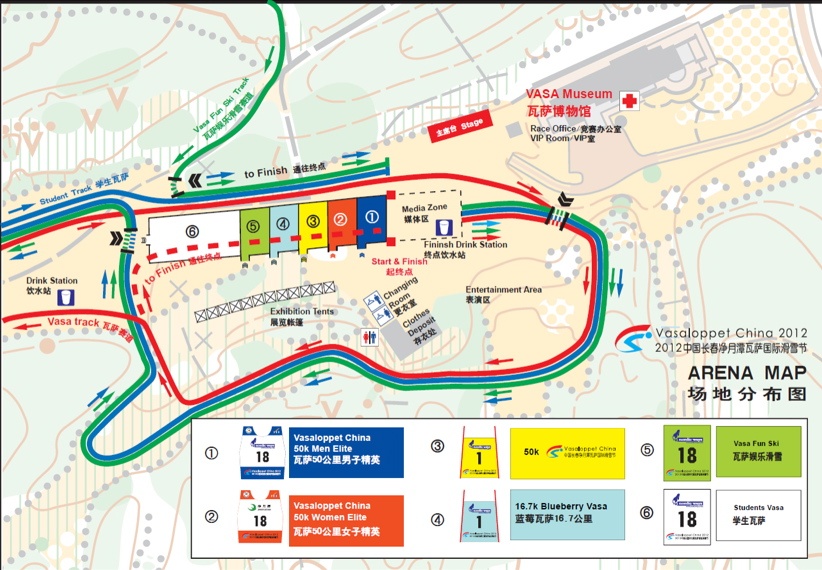 CATEGORIES
Vasaloppet China has four different official categories, Men 52.5K, Women 52.5K, Men 17.5K and Women 17.5K.
SIMULTANEOUS START
The race starts at 9.30 a.m. From 9.00 a.m. you can check in. You must be at your start place by 9.20 a.m. at the latest. Make sure you have plenty of time.
CLOTHES DEPOSIT
Use the plastic clothes deposit bag, marked with your start no. Leave your bag at the clothes deposit area. Your belongings will be taken care of in a closed room, only accessible by the event organizers.
DISTANCES
52.5K or 17.5K. Every kilometer passing is marked with signs.
SKI TECHNIQUE
Only the classic technique is permitted. Using the skating technique leads to disqualification. This will be strictly supervised all along the track. You are not allowed to take off your skis and walk on the track.
LACK OF SNOW / LOW TEMPERATURE
In the event of extreme weather conditions, lack of snow or too low temperature, please listen to the information provided by the announcer.
CHIP – TIME KEEPING
China Ski Association (CSA) time keeping team is responsible for the official time keeping. Together with your no.bib there is a chip with a wrist holder. You have to wear your chip to be allowed to pass into the start area and you must wear it during the race from start to finish. No chip at the finish means disqualification. Wear the chip on your right ankle.
The chip is a valuable thing, and must be returned after the race. A non-returned or lost chip is debited 200 RMB.
SKI MARKING
Before entering the start area, all participants of the 52.5K and 17.5K competitions must put number and put on their ski marking on both skis. Participants are not allowed to change skies during the competition and this will be supervised by referees. Changing of skies leads to disqualification.
CHECKPOINTS / MEDICAL SERVICE / SKI WAX
There are four checkpoints with refreshments, three along the track and one at the overlapping area. Medical services are situated at the start/finish area but can be contacted from the check points. Grip wax service is not handled. Ski waxing area is provided at the start area.
ABANDONING THE RACE If you have to retire from the race, you must inform the referee team at the finish area. They will take your chip and report your decision to abandon. Safety and medical service units are permitted to take any competitor out of the race, if they suspect injury or illness. Transport to finish area will be arranged in such circumstances.
TIME RESTRICTIONS
Maximum time allowed for fulfilling the 52.5K and 17.5K distances is 6 hours and 00 min, and overlapping for the last lap closes at 1.30 p.m. These time limits are set for safety reasons. In extreme weather conditions the competition organisers reserve the right to change these time limits.
FINISH
At the finish the chip registers your time. The chip must be returned after you finish; please follow the stewards' instructions. A non-returned chip is debited 200 RMB. The finish closes at 3.30 p.m.
CHANGING
Changing room is available at the start/finish area. Showers are not available.
LOST AND FOUND
Organizer cannot accept responsibility for loss of skis or other possessions. Any marked items found will be kept at Vasaloppet House, until 30 January 2013.
RESULT LISTS
Result lists for the 20 best men and the 10 best women will be posted at Arena Race Office. Protests against these top placing must be lodged and paid not later than 15 min after these lists have been posted.
PROTESTS
See under RESULT LISTS top 20 men and top 10 women. Protest fee is 1000 CNY. Protests with respect to all other preliminary placing and times must be lodged with us at the latest by 10 January 2014 in order to be considered.
PRIZE DISTRIBUTION
Prizes are given to the 4 best men and women at 52.5K and the 4 best men and women at 17.5K. Prize giving ceremony is held during the Vasaloppet Banquet at SHERATON Hotel on 2 January 2014 . The Banquet commences at 6.30 pm.
"PASSPORTS" Passports for International Vasaloppet International Skiing Exchange can be bought and stamped in the Vasaloppet China Race Office at SHERATON Hotel.
COMPETITION RULES
International Ski Federation (FIS) competition rules apply.
INSURANCE
The participants take part on their own risk