"Vasaloppet is like a bridge connecting Sweden and China's Jilin Province,"said an official from Jilin Province over the weekend in Sweden.
Li Jinxiu, Deputy Governor of Jilin, made the remarks when he and his delegation carried out tourism exchanges and promotion in the northern European country.
Vasaloppet is a popular cross-country ski race in North Europe which has been held for 95 sessions and is now the largest, most famous and participated in of its kind in the world.
Changchun City of Jilin began to host the Vasaloppet International Ski Festival in 2003 and after 15 years the annual festival has become an indispensable ice and snow event in Jilin. Jingyuetan Scenic Area, the venue for the festival, has gradually become the center for skiing in China and even in Asia.
Li told Evalena , CEO of Vasaloppet Sweden, that Vasaloppet can serve as a bond for exchanges and cooperation between Jilin Province and Sweden in tourism, culture and sports.
As the Vasaloppet brand matures in Changchun, a series of other famous sports tourism events like Lidingoloppet and Vatternrundan China International Biking Tourism Festival have been held in Jilin.
In 2014 Worldloppet admitted Jingyuetan Vasaloppet International Ski Festival as a recognition of the China event as a top-notch long-distance cross-country ski event in the world.
During the promotional event, Li introduced Jilin and its advantages in ice and snow tourism, and stated the province's aim to become a global destination for ice and snow tourism.
He expressed the hope to elevate the international reputation and influence of Changchun Vasaloppet through exchanges and cooperation with Sweden Vasaloppet so that more athletes from more countries can take part in the Changchun event.
He also hoped that Vasaloppet can help Changchun to attract more international famous tourism and sports events. Jilin, bordering North Korea and Russia, will be an ideal venue for cross-border sports event, according to Li.
As part of the promotion, a Jilin Tourism Photography Exhibition was held in Mora as over 60,000 people took part in the Swede Vasaloppet. Photos on show displayed the fascinating natural scenery, the rich history and culture and strong ethnic flavor of Jilin and the bond between Jilin and Sweden Vasaloppet.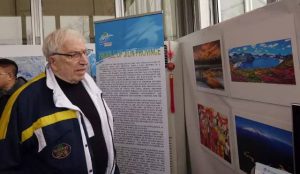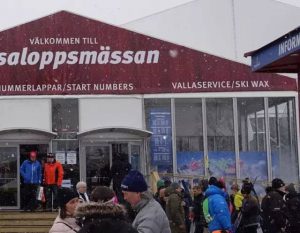 Li Jinxiu, Yang Andi, director of Jilin Provincial Tourism Development Committee, Ulf, chairman of Vasaloppet Sweden board, and Gavert, Chairman of Nordicways Vasa Co,.ltd cut the ribbon at the opening ceremony for the exhibition.
Jilin government signed a letter of intent for cooperation on promoting cross-country ski among teenagers and the general public in Jilin with MDSHUS Cross-country Ski Equipment Company and Changchun Nordic Ways Vasaloppet, the organizer for Vasaloppet China, during the promotional event.
Under the agreement, the government will build winter cross-country ski venues on idle public areas and school campuses to encourage students and the general public to ski. MDSHUS will provide ski equipment for free or for a discounted price. Nordic Ways and Swede Vasaloppet will provide training and technological support.
The delegation also visited an ice bar in Stockholm and exchanged with the representative in Stockholm of Sweden Ice Hotel on strengthening cooperation.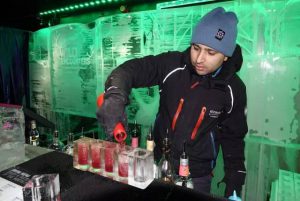 Li Jinxiu also invited the Sweden people to visit Jilin during the Second China Jilin International Ice and Snow Expo in September.