Björn Lind is a former Swedish cross-country skier who has participate in 3 olympic games and won 2 Olympic gold medals in the 2006 olympic games in Torino. Bjorn Lind work as an event director of Nordic Ways, he was the speaker when Vasaloppet China applied to join the Worldloppet. He is also a staunch supporter of the popularization and promotion of cross-country skiing. He has organized cross-country skiing communication and promotion between China and european countries throughout the years and has contributed to the popularity of cross-country skiing and to build up Nordic Ways skiing events, (Chinese Vasaloppet, Tour De Ski China and summer ski sprints).
Can you introduce yourself to everyone?
– My name is Bjorn Lind and I am a former professional XC skier, I was a member of the Swedish national ski team for 10 years and participate in 3 Olympic games. My best results was the season 2006 where I won 2 Olympic gold medals and the overall victory in FIS Sprint world cup.
In China, many people don't know what cross-country skiing is. Can you briefly introduce this sport?
– XC skiing is the oldest form of skiing in history, it was beginning used to travel faster in the wild nature when hunting or transporting yourself. XC ski today is divided into 2 different technics, Skating(which looks more similar to ice skating) and classic(which is the original technique). In the competition program today there is many different distances, everything from sprint to long distance. XC skiing is also one of the most popular winter sports in many countries in Europe, especially in Northern Europe.
What kind of equipment do we need for cross-country skiing? Is it different from other skiing sports?
– Yes, the equipment is different from other ski sports, the boots, bindings, skis and poles are focus a lot to be lightweight and fast, both up and downhill as well as on the flat.
When was your first contact with the Vasaloppet China? What was your role at that time? What did you do?
– My first contact with Vasaloppet China was back around year 2003-2004, Where I participate as an athlete.
You have been the golden coach for the Changchun University students' cross-country skiing training activities. What do you think is the biggest effect of this training event? What aspects do you think the organizer can improve?
– First of all we are focusing on the basics of learning to ski XC skiing, so when it is the first time or one of the first times you ski you need to focus a lot about learning the balance. The organizer are doing a good job and are put in a lot of effort into this so I feel they are on the right way for sure. And I really like that they focus on let a lot of students try skiing, not only a few students in a "team". This is the key to success and public health in the future, XC skiing is a sport for everyone! and helps to create a healthy lifestyle.
Vasaloppet has been in China for 17 years. What effect do you think it has had on cross-country skiing in China?
– Since it has been so long in China it has become the biggest and most famous ski event in China and it for sure help that more and more Chinese can start learn skiing and then later participate in Vasaloppet.
What do you think of the promotion and development of cross-country skiing in China? What is the current stage of cross-country skiing in China? What are the possibilities for the future?
– It is very big focus now since China has the Olympics -22, but I feel that one of the most important thing to do is to make it more easy to do, today it is not enough facilities to do XC ski and therefore it is not so easy to get a chance to try XC skiing. But when it comes to the professional I feel that they should be able to take big steps in the coming years, now the national team has a good head coach also.
The 2019 Vasaloppet China is the first stage of the worldloppet in 2019. Worldloppet is the world's highest level cross-country ski marathon association with strict assessment and access standards for member states. Why Vasaloppet China can be one of the number of Worldloppet?
– Yes, the name is FIS Worldloppet Marathon Cup, and it consist of many of the biggest long distance ski races around the world. The reason why Chinese Vasaloppet is a member is because they see the progress Chinese Vasaloppet doing, and the idea is that it good to promote XC skiing in China through this. Vasaloppet is not only for the elite, is for everyone, its for the mass population, like a normal marathon in running. and therefore it is also very good way to get more Chinese people to get into winter sports and an active and healthy lifestyle.
From the point of view of the Race Director, can you give us some information about the preparations for Vasaloppet China this year?
– The preparations going really well, the track is getting more and more ready and I think it will be an fantastic event this year again.
What kind of event would you like Vasaloppet to develop into? What are its overall plans and future goals?
– Overall plans is to grow it step by step and let more and more Chinese to participate, that is the main future plans. I want it to become bigger than its "mother" ,the Swedish Vasaloppet, who are the biggest ski event in the world when it comes to popular skiers.
For many zero-based "snow sports enthusiasts", what practical methods do you have to quickly learn cross-country skiing if they want to participate in 25km of Vasaloppet China ?
– Get to learn to keep your balance on the skies, and also learn about your equipment, if you don't have good glide on the skies or good grip for the uphill it not as fun as if your equipment is good.
As the 2022 Beijing Olympic winter games are approaching, many outdoor sports lovers in China have become interested in cross-country skiing. Do you have anything to say to them?
– I'm just happy that I'm seeing and growing interest. Our company has been working with XC ski events in China since beginning of year 2000. We have done everything from city sprints for top athlete(in down town Beijing), FIS World Cups 2 years in a row, summer ski sprints, and of course our Vasaloppet China for both elite and normal skiers/beginners. and now a bigger interest is coming, the future looks bright!
Lind
Lind at FIS World Cup Cross Country – January 7–8, 2006 in Otepää, Estonia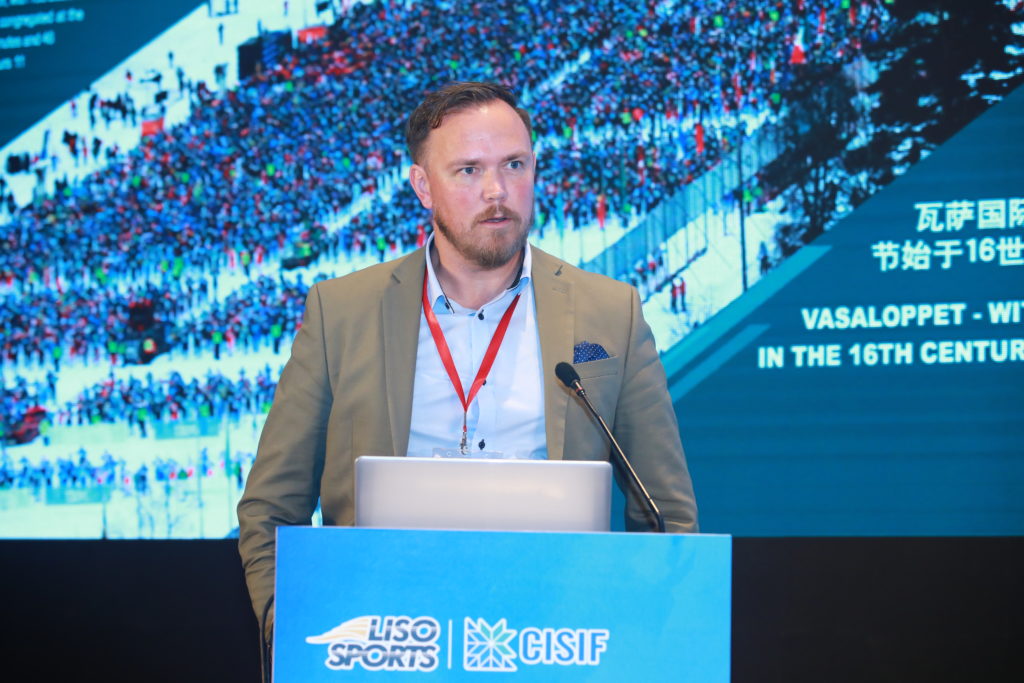 Lind introduced Vasaloppet China in the CISIF
Coach Lind in Jingyuetan Park