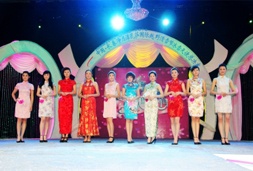 The search for 2010 years Vasaloppet Chinas "Vasa Snow Angel" is now over. 20 university girls from Changchun were in the final of Vasa Snow Angel held at Changchun TV Station on Dec 18.
After 2 hours of competition, Hu Lingyao from Northeast Normal University came out the winner at got crowned 2010 years Vasa Snow Angel. The Vasa Snow Angel not only gets to be the "kranskulla" (garland maiden) for Vasaloppet China and be hostess at the Shangri-la Banquets, she also gets to represent Changchun and China on Vasaloppet in Sweden in March 2010.
The Vasa Snow Angel contest which was held for the 5th time started with its selection process in November, attracting over 5000 outstanding female students to the tryouts. After qualifications, semi-finals and finals, the 20 best contestants got to take part in the TV-sent Last Final.
The competition elements of the last final were Evening Dress, Qipao (Cheongsam) and Chinese and English language proficiency. Miss Hu captured the jury with her elegance, her fluent English and her sweet smile and became the luckiest "angel" of them all.Miss Hu said after the win: "Although I have won the title of angel, I know I still have got a lot to learn. This will be one of the most cherished moments in my life. I am going to show the charm of Vasa Snow Angel in my own way and bring the beauty of China and message of friendship to Sweden.
Among the prominent leaders present could be noted Changchun vice mayor Wang Xuezhan and Mr Guan Shusen, vice chairman of Changchun Party Committee and chairman of Jingyuetan Development Group who also gave out the award.