No other skier has managed to put his stamp on our Vasaloppet China event as Anders Högberg. The now 42-year-old Swede won his fourth and last ski marathon in Changchun five years ago, but will return to the Jingyuetan Park again next month in his new role as Head Coach of the Chinese National XC Ski Team. His experience and technical know-how will certainly be a plus for the Chinese participants in Vasaloppet China on 4 January, and all the more reason to have a sit-down and talk with the King of Vasaloppet China.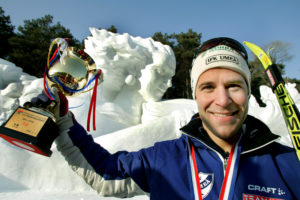 1.Anders, you are the King of Vasaloppet China with your four wins and you have been on cross country ski tours in China on 11 occasions. If you picked one or two moments that you remember best from all these times, what would they be?
The first victory in the Vasaloppet China in 2009 is a moment I will never forget. Remember everything from waxing in the evening before the race until my last move away from the competitors, just before we slipped into the finish stadium. Nice feeling!
Then it was fun and memorable when we went to The Great Wall during a summer tour and practiced running on the wall. I think maybe not so many have done that.
2.You did your last race in China 2014, did you leave the skis on the shelf after it or do you still compete?
2014 was my last season as elite athlete. After that I have continued to participate in some competitions but then just because it's so fun.
3.We have understood that after your race career you have been working as a coach. Briefly describe the different roles you have and have on the coach side.
After my career, I directly became coach for an elite team in Nord Trøndelag, Norway, and did that for four years. I also worked as coach for two years for XC skiers at the sport school in Meråker, Norway. So after 2014, my life is still very much about XC skiing.
4.You are now the Head Coach of China's XC Ski National Team with their training and race planning clearly geared towards the Beijing Winter Olympics in 2022. Here are some questions around that role:
– How were you recruited? When did you start? How long a contract do you have?
– Do you do this full-time?
– What does the organization for the national team look like?
– How is the squad on the men and women side respectively?
– How have the preparations been set for the coming winter season? (training in China, training in Europe, pre-season, roller skiing, skiing etc.)
– What is the planning for World Championships in Seefeld and World Cup? Will China be represented throughout the WC season?
– Do you have any valuable contests in China or Asia to take into the teams winter planning?
– Can you say something about the national team's goals for the Olympics in 2022?
By the end of July last summer, I was contacted by the Chinese national team's Norwegian manager,
Bernhard Rønning, and he asked if I was interested in becoming a head coach for the team.
July 15th I signed the prestigious contract that expires on April 30th, 2019.
This job is a full-time job where we follow the athletes on every training session throughout the year. We are three coaches who share responsibility for those eight athletes, at the moment there are 4 men and 4 ladies in the team.
The athletes came to Norway and Trondheim, where we have our base for traiing during this year since early September. Since then we have had two camps, one in Mallorca for roller skiing and one in Bruksvallarna, Sweden for skiing on snow. Now that the season starts, it's most important that we travel around competitions. We will be attending most World Cup competitions this winter and of course the World Championships in Seefeld is the big goal for this season.
5.We have understood that you will participate in the Vasaloppet China 2019 with your best athletes. What does your instinct tell you? Which long distance skiers do you think most about in the squad for Changchun?
We travel to China on December 29th to join the China Tour de Ski 2019, including Vasaloppet China. It will be an opportunity for the athletes to show themselves at home. We have both good sprinters and distance athletes, so we bet of course to be on top of the result lists.
6.You have formed a family in Norway, what does it mean to you and how can you combine with your mission for China's national team?
Me and Mari got a daughter named Vilma. Due to a lot of traveling for me, Mari is very much responsible to take care of our daughter at the moment. So far, everything has gone well but it is clear that I will miss them this winter when we will be gone for longer periods. Hope they can come and see us at the World Championships in Seefeld!
7.Finally, Anders, do you think you can free from the team on the competition day, January 4th and make another start in Vasaloppet China?
The Chinese Vasaloppet really warms me around my heart. So if there is an opportunity, I would love to stand on the starting line again in 2019. But then the goal will only be coming to the finish line before it gets dark ☺.
FACTS  
Name: Erik Anders Högberg
Nick name: Högan
Born: 09.04.1976
Born in: Skellefteå, SWE
Family: Partner and a daughter
Club´s represented: Hybo AIK SWE, IFK Umeå SWE, Skogn IL NOR
Current as: Head Coach of China XC Ski National Team
Vasaloppet China
4 times winner; 2009, 2012, 2013 & 2014
China Tour de Ski
Participated 7 times
Overall winner 2009 & 2012
China Summer Tour de Ski
Participated 4 times
Overall winner 2008 & 2009
World Ski Championships
2001 Lahti, FIV – 5th Men's Sprint
2003 Val di Fiemme, ITA – 10th Men's Sprint
World Cup
Totally started 57 times in World Cup
2002 Clusone, ITA – 3rd Men's Sprint
2003 Davos, SUI – 3rd Men's Sprint
2004 Umeå, SWE – 3rd Men's Relay 4×10 km
2004 Trondheim, NOR – 3rd Men's Sprint
2004 Drammen, NOR – 3rd Men's Sprint
National Championships, SWE
2005 Sundsvall – 2nd 2×15 km Men's Pursuit
2005 Hudiksvall – 3rd Men's 30 km