A parable which tells how important Vasaloppet is to Swede: If you ask a pedestrian in the street who wins the Nobel Prize this year, 80% of people do not know. If you ask who is Vasaloppet champion this year, 80% know.
Vasaloppet is a Swedish word which means "the Vasa race". It is an annual long distance cross-country skiing race held on the first Sunday of March. Vasaloppet is the oldest (since 1922) and longest (90km track form Sälen to Mora) cross-country skiing race in the world as well as the one with the highest number (about 16000 people in Vasaloppet, more than 70000 including Vasaloppet week) of participants.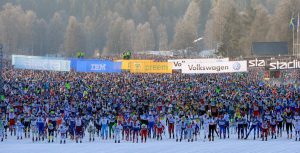 The idea for the race was published in a local newspaper by Anders Pers who inspired by a notable journey made by King Gustav Vasa when he was revolting against Danish rule in Swedish history. The first Vasaloppet was held on 19 March, 1922.
The motto of Vasaloppet – "I fäders spår för framtids segrar" ( means "In the track of our father for future victories") is written on a portal erected over the finish line. This spirit which is beyond race itself, inspires later generations constantly.
Since 1978, Vasaloppet is included in the Worldloppet Ski Federation. In 2006, It joined the FIS Cross-Country World Cup. Vasaloppet is also one of Ski Classics stages.
The week preceding Vasaloppet is known as Vasaloppet week, during which 9 races held:
Öppet spår Sunday and Öppet spår Monday (non-competitive, 90km)
Nattvasan (at night, 90km)
Stafettvasan (relay, 90km)
Kortvasan (short, 30km)
Halvvasan (half, 45km)
Tjejvasan (ladies, 30km)
Ungdomsvasan (9-16 years old, 3-9km)
Blåbärsloppet (Öppet spår, 9km)
An allusion of Blåbärsloppet:
Blåbärssoppa ("bilberry soup") is served at drinking stations along the track in Vasaloppet. Participants wear number bibs on which Blåbärssoppa logo printed are called blåbär. The Swedish word blåbär (bilberry), literally means "blueberry", which is also a pun used to describe newbie.
Vasaloppet has been called a rite of passage for Swedes. Some notable participants (royal family, politicians, businessmen, socialites from sport and entertainment field) have completed the race, especially including: Carl XVI Gustaf, King of Sweden – 3 times.
In 1997 Carl XVI Gustaf, King of Sweden participated in Vasaloppet week race.