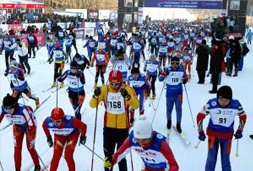 The conditions were great for the 7th Vasaloppet held in Jingyuetan Park on the morning of Jan 2, 2009. After an early breakfast, the skiers went by bus to Jingyuetan Park to warm up and make the final preparations.
At 9:30, the over 10.000 skiers set out to go either 50 or 16.7 km in the light sunshine and a temperature of about minus 17 degrees celsius. But the temperature rose quickly to about 8 degrees during the day. Some were here for the first time, and for some, it was a joyful return to Changchun and the white ski tracks of Jingyuetan.
A lot of journalists and photographs from TV and newspapers had gathered to report on the event where amateur skiers race together in the same tracks as the professional ski athletes competing in Tour de Ski China, with Vasaloppet as their 4th Stage. The photographs were busy taking pictures of the top skiers as well as the foreign participants coming mainly from Sweden, Norway, USA, France,Canada, USA etc.
The fastest man in the Mens 50 km race was Elite skier Anders Högberg from Sweden. One of his countrymen, Gösta Lönnelid, 70  who has been in over some 40 Vasaloppet races in Sweden was first a bit unsure if he would go the whole 50 km in the morning, but he decided to go through with the race and finished in little over 6 hours. He and some friends plan to go to Japan in march to participate in Vasaloppet Japan, they therefore bought a Vasaloppet passbook which participants get a stamp for each country they take part in Vasaloppet. After finishing all the races(China, Japan, USA, Sweden) they will receive an exclusive Vasaloppet skiing exchange medal.
Vasaloppet is a race for every one and every age. In the Childens Vasa that was held in the afternoon, the youngest participant was only 3 years old. The young skiers were firmly backed up by parents and grandparents following their kids around the track for some extra support.
After the race, participants could relax in the race office or take pictures of the Vasaloppet 14 m high main snow sculpture "the Violin playing woman".
Photos: Tommy Nyhlen
Photo: Ellinor Axner Yin