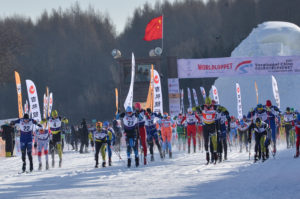 Traditional blue skies for the 17th edition of the biggest cross-country ski event in China, but the cold wind made conditions more treacherous than previously expected for the 50k classic-style ski marathon, which also opened the 2019 FIS WorldLoppet Cup. The race favourites stayed together for basically the whole race, a few attempts notwithstanding, such as by Frenchman Benoit Chavet. As the skiers went into the final kilometre, 13 of them were still together to contest the sprint for the victory!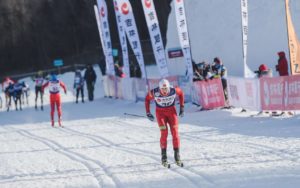 But eventually, the Chinese sprinters Wang Qian and Lin Bao had such an explosive kick still in the legs they finished with a small margin as 1-2 in what was quite an upset. Bastien Poirrier and Martin Mikkelsen were closely matched for the podium but the advantage was for the Frenchman. Petter Soleng Skinstad finished as fifth. A big success for Anders Hoegberg, recordman of Vasaloppet China with four victories and recently recruited as head coach of the national ski team of China. His experience and expertise certainly paid off today as Wang Qiang was known as a pure sprinter before! Needless to say, Wang Qiang is also the overall winner of China Tour de Ski as he won the ski sprint in Chiangbai Shan also earlier this week.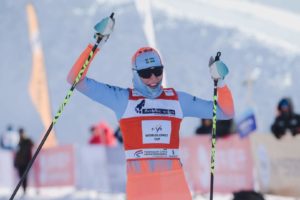 In the women's competition the biggest news came early in the morning as defending champion and Changbai Shan ski sprint winner Marina Chernousova announced herself as a DNS due to sickness. That paved the way for Sweden's Maria Graeffnings to grab control and win Vasaloppet China. The Chinese trio of challengers turned into a quartet as Yingcui E – officially a non-elite skier – beat her better known compatriots Chi Chunxue and Ma Qinghua for the podium.