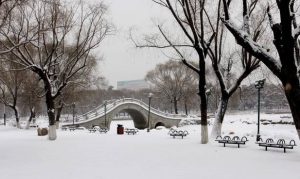 Situated in the heart of the Manchuria in Northeast China, Changchun is the capital of the Jilin Province. With its about 7 million inhabitants, the city is the economic, scientific and cultural center of the region. Changchun was ranked among 15 central economic cities of the country in 1979, Automobile, agricultural products and by-products refining and new high technology have become three pillar industries of the city.
It's a city of convenient traffic and fast communication The railways of the city lead to Liaoning Province, Heilongjiang Province, Beijing, Tianjin and Tangshan, and link with the Korea and the Russia. Changchun is one of the important market-places and good distribution centers in the Northeast. It owns over 100 large and medium-sized state-owned enterprises such as Changchun Department Store, Changchun International Trade Center and Euro-Asian Commercial Center. Therefore, it's a very place for shopping.
As the beautiful "spring city", it's also one of the most important travel spot cities. With the unique combination of nature, people, hospitality, food, history, it's just the one you should not miss. The Jingyuetan Forest Park, Changchun Animal and Plant Zoo, Changchun World Scenery Park, Changchun World Sculpture Park, Changchun Film City, Last Emperor Palace, etc can all be the good choices. Besides, there are lots of local snacks with various flavors such as Sichuan, Beijing, Shandong, Korean, etc which are highly praised by both domestic and foreign travelers. You really should have a try!